---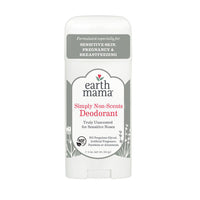 Simply Non-Scents Deodorant
Earth Mama Organics
"Extra-sensitive skin? More like skin that feels all the feelings. Extra-empathic, introverted skin if you will. If this sounds familiar, you're in luck: this unscented deodorant is just for you. It contains organic calendula and coconut oil, formulated especially for sensitive skin, pregnancy and breastfeeding, and best of all, it's effective for everyone. Only clean, fresh ingredients, without any of the stinky ones! Dermatologist tested and clinically tested for irritation.
Think you're too sensitive for deodorants with baking soda? You got another thing comin'! This formula was made for extra sensitive skin with the perfect balance of baking soda and magnesium. Just enough to work, not enough to hurt.
ROOM TEMPERATURE, PLEASE! Earth Mama's deodorant is kind of like Goldilocks. Too cold, and she won't want to roll up and say hi. Too hot, and she gets kinda melty. Room temp, though, is juuuuust right.
Wash underarms well, dry thoroughly, apply your new favorite deodorant.
Formulated especially for sensitive skin, pregnancy, breastfeeding and YOU!
Rated ONE on the EWG's Skin Deep Cosmetics Database, the lowest hazard rating a product can achieve.
NO artificial fragrance (just organic essential oils that smell great).
The only non-vegan ingredient? Organic beeswax — that's been ethically sourced in a bee-centric manner.
NO propylene glycol, artificial fragrance, parabens or aluminum
Dermatologist tested and clinically tested for irritation
It's organic! NSF/ANSI 305 certified by Oregon Tilth in fact."